7 Mers, the Nouveau Monde's sea view restaurant is open to the public.
Right on the Sillon Beach, in a refined and warm atmosphere, overlooking the bay of Saint-Malo, the 7 Mers Restaurant offers a unique gourmet experience through world cuisine.As part of the Nouveau Monde Hotel, The 7 Mers Restaurant will take you to faraway places and distant times on the discovery of the East India Trading Company, the spice and coffee routes…  Welcome aboard for a unique gourmet experience, succulent discoveries and exotic flavours.

Our chef takes you on a journey to the heart of the senses. Spices and exotic ingredients from across the globe enhance the region's meat, fish and seafood. Desserts by Pascal Pochon will delight your taste buds and bring you back to port on a sweet note.
Romantic dinners for two, with family or friends, set sail to new culinary horizons.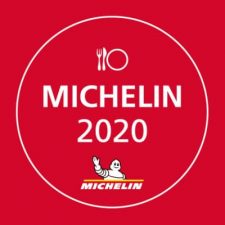 The restaurant Les 7 Mers received the "Michelin Plate" distinction.
Sea view bar in Saint-Malo
Le Comptoir sea view bar at the Nouveau Monde Hotel serves drinks and cocktails as well as a selection of teas and coffees.